NON-DESTRUCTIVE AUTHENTICATION OF GOLD, SILVER, PLATINUM and PALLADIUM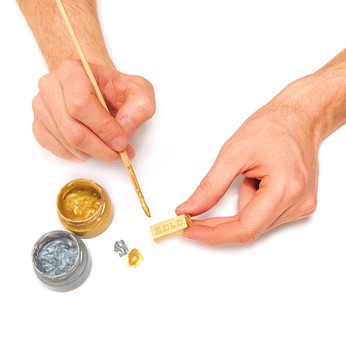 © artmim / Fotolia
How are we at AUROGOLD able to identify counterfeit coins or bars and how do we protect You, as our customers, from purchasing counterfeit precious metal?
We therefore test coins, bars and medallions (gold, silver, platinum and palladium) right at the goods reception in a multistage process for their authenticity.
On one hand we make use of the well-known standard methods that may well be practised by You at home: the inspection of weight and dimension (thickness and diameter), the visual inspection and the immersion weighing according to Archimedes.

Additionally, we have invested in highly developed and non-destructive measurement technologies and authentication test systems (e.g. magnetic balancing, acoustic discharge measurement) whose significance goes far beyond the standardised methods and is thus ensuring a high level of security when inspecting coins and bars made out of gold, silver, platinum and palladium.
After intensive marketing research we decided to use the products of the company Aurotest from Stuttgart, one of the leading German companies for the authentication of precious metals that is constantly keeping us on the highest level.
AUTHENTICATION BY MEANS OF THE MAGNETIG BALANCE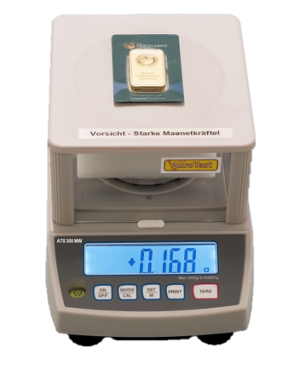 By means of the magnetic balance one can easily and quickly identify the magnetic difference in weight of the test object and can therefore determine it to be authentic material or counterfeit. Fine gold and fine silver are naturally diamagnetic, i.e. they are being pushed out of the magnetic field.

Typical paramagnetic materials, usually used as materials for counterfeit coins, such as wolfram, molybdenum, tantalum, hafnium, iridium and rhenium on the other hand are drawn into a magnetic field and can therefore be easily determined as false. The newer counterfeit coins being made from wolfram-copper or wolfram-silver are instantly determined by a magnetic balance.

Magnetic balances allow the testing through plastic blister packaging, Security Sards/CertiCards as well as welded capsules. These are used by the large mints mostly as a secondary measure of security and cannot be opened without reducing their sales value.

Bars and coins (with or without packaging) need to be out onto the magnetic balance and the test result is legible after only a few seconds. AUROGOLD uses the magnetic balance ATS 300 MW, produced by the company Aurotest.
AUTHENTICATION BY ACOUSTIC DISCHARGE MEASUREMENT
Every metal has its own specific velocity of sound. This can be clearly identified by using an acoustic discharge measurement. Using the results it can be determined whether the test object is authentic material or counterfeit.

Using this instrument, one can determine the velocity of sound of customary bars and coins that made out of gold, silver, platinum and other precious metals or their alloys, in order to perform an authenticity check on test object ranging from 5 g up to 1000 g.

The advantage of the acoustic discharge measurement method is the complete examination of the entire volume of the test object with regard to authenticity and homogeneity. It can thus be assured that even very deceitful counterfeits (e.g. gold bars filled with wolfram bars) can be identified without any doubt.

Additionally, the acoustic discharge method is able to test all customary precious metal alloys (such as the 916 Krugerrand gold alloy), therefore a wide scope is secured and invested precious metals can be tested in pure or alloy form.

AUROGOLD uses the acoustic discharge measurement ATS 1000 by the company Aurotest. Through the combination of standardized methods of authentication with the use of magnetic balances and acoustic discharge measurements we can ensure our customers a high level of security in terms of counterfeit products of precious metals made out of gold, silver, platinum and palladium.
FURTHER INFORMATION